Every 97 seconds in the US, an American citizen is denied their inalienable right to life as they are murdered by abortion.
Since the government legalized abortion in 1973, millions of American citizens have been killed in what should be the safest place on earth – their mother's womb. (It is estimated that 60 million have been killed via surgical abortions and 250 million have been killed via chemical abortions).
And it's not just an American problem. According to the World Health Organization (WHO), every year around the globe there are 40-50 million abortions. Globally, that works out at around 125,000 per day.
 
ADVERTISEMENT
Every day, around the world, around 125,000 people are ripped apart in their mother's womb. Poisoned, dismembered or crushed, they die a painful, traumatic death.
The number one reason?
According to surveys by the Guttmacher Institute, 74% of US women, and an equally vast percentage of global women, choose to have an abortion because: "having a baby would dramatically change my life in a way I do not want".
In other words, around 125,000 people are murdered around the world each year because a minimum of 125,000 other people are choosing their own selfish agendas over someone else's life.
So as a follower of Jesus – the Way, the Truth and the Life – what are you to do?
You are called to value life (see Deuteronomy 30:19), welcome children (see Luke 18:15-17), speak for the voiceless (see Proverbs 31:8-9), and deliver those condemned to death (see Proverbs 24:11-12).
One way you can do all of these things at the same time is to be a lifeguard to the preborn.
Ronald Reagan once said of abortion:
Human life legislation ending this tragedy will some day pass the Congress, and you and I must never rest until it does.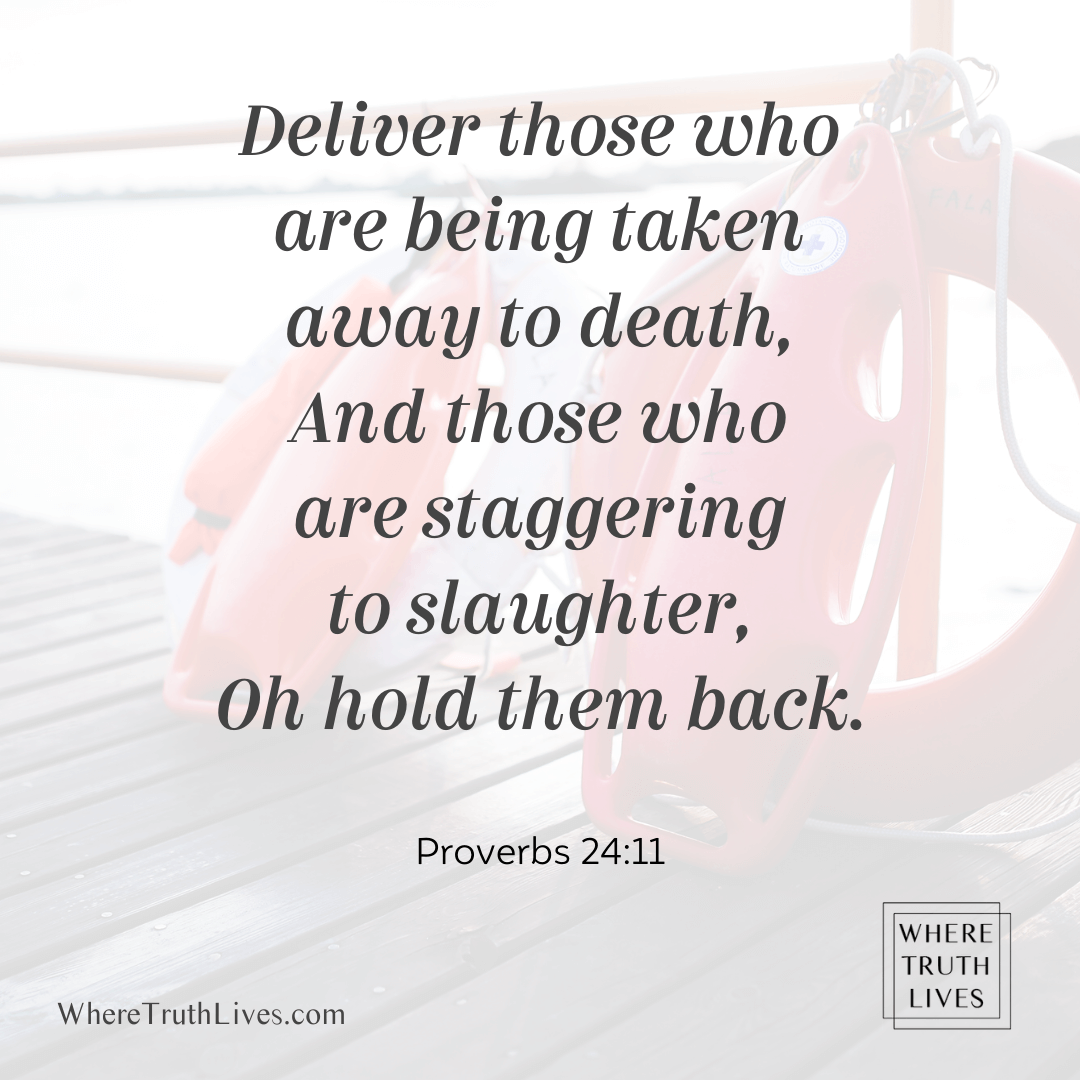 Here are 10 pro life actions you can do (no matter where in the world you are) to stand for life and to protect innocent blood from being shed:
LOVE
Love the children, the parents, the doctors, the clinic workers, the politicians, the legislators… just as Jesus loves them – without condoning the wrong they may do.
INTERCEDE
Intercede (pray) for all the people mentioned above, and that God will grant you wisdom, courage and strength to defend life and in so doing, introduce people to Jesus – the Way, the Truth, the Life.
FORGIVE
Forgive those who persecute you for declaring the truth and remember that Jesus has forgiven us much and is willing to forgive those who take lives through abortion.
EDUCATE
Educate those around you about when life really begins, what really happens during abortions, after abortions, and what the Bible says about our responsibility to defend life.
A book I highly recommend about this latter point is Innocent Blood by John Ensor. It will open your eyes to what is really at stake and explain how we can defeat the culture of death with the gospel of life. If you only read one book on the Christian response to abortion, read this. It is life-changing. (And not just for your own life…).
GIVE
Donate money to pro-life organizations who publicly defend life and battle to save the lives of the preborn. I personally donate to Heartbeat International, Live Action and Human Coalition. I recommend those, but also have a look and see if there are any organizations or crisis pregnancy centers near you that you could support financially and physically by donating supplies that may be needed.
USE
Use only clinics and doctors that don't offer or promote abortion. Use life-affirming choices like Stanton Healthcare or Obria Medical Clinics. Also – don't use products from companies who test their products on cells from aborted baby parts (yes, this actually happens, and you'll be surprised at some of the big brand names on the list…).
ASSIST
Volunteer your time to help out in crisis pregnancy centers and local pro-life organizations. Take every opportunity to lend a helping hand to all those involved in defending life. Check out Live Action's Get Involved page, Human Coalition's Get Involved page, Heartbeat International's Services page, and search for pro-life groups and organizations in your local area.
REPRESENT
Be the preborn child's voice in society: sign petitions, get involved in campaigns and appeals that defend the rights of the preborn. Only vote for electoral candidates who are committed to defending the lives and rights of the preborn.
DISPLAY
Wear pro-life t-shirts; display pro-life bumper stickers, phone/computer screen wallpapers, social media profile pictures, life-affirming art, and wear a Precious Feet pin (people will ask, tell them why!).
SHARE
Share pro-life articles, quotes, and statistics on social media; repost and retweet from pro-life organizations and campaigns, such as Live Action, And Then There Were None and Human Coalition.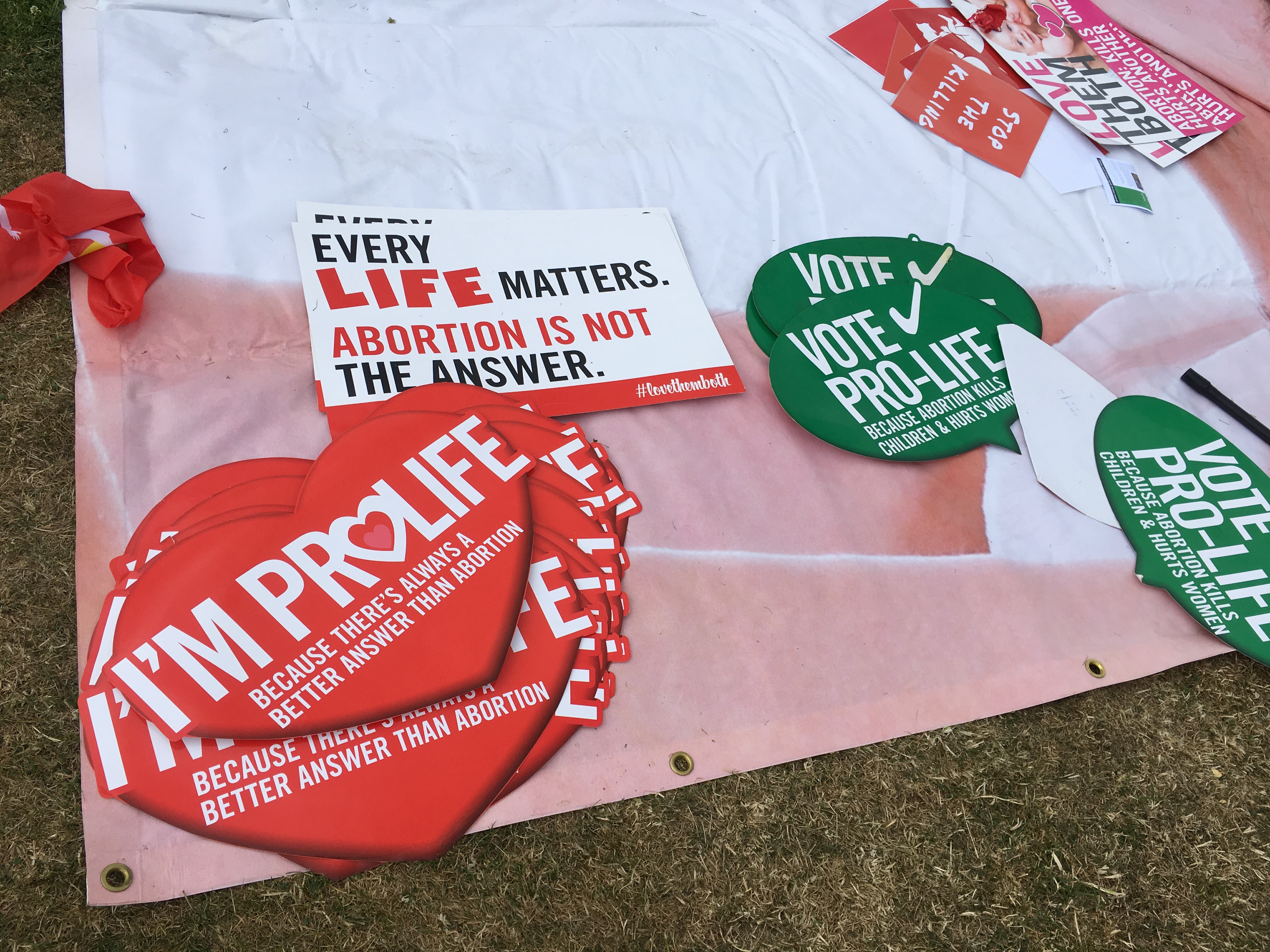 INNOCENT BLOOD
As a follower of Christ, you are commanded to love the Lord your God with all your heart, mind, soul and strength, and to love your neighbor as yourself.
The preborn are your neighbors, just as much as those who have already been born.
If you want to help protect vulnerable children in the womb, I urge you to get started with as many of these ideas as you can. I've made some free printables to make it easier. You'll find them at the end of the post.
And if you're not sure where you stand on the whole subject, or why it's so necessary to take action, I implore you to read Innocent Blood (by John Ensor of PassionLife).
It's not a huge textbook – it's an easy-to-read book that's a little over 100 pages long, and you can even download the first half of the book for free at the publisher's website.
In it, the author details how:
God presents the prevention of the shedding of innocent blood as a matter of highest priority.
As Christians, we have accepted a false choice between the temporal value of human life and the eternal value.
There is a unique courage that comes from faith.
The shedding of innocent blood is and has always been central to the fierce and desperate strategy of the enemy.
It will change not only your life, but potentially countless other lives, too, and it will help you understand the truth about abortion from a biblical, gospel-centered perspective.
>>> LIVING IT OUT >>>
Pray:
That God will give you courage and wisdom to stand for life in this hostile world and that the ongoing assault against women, men, and their preborn children will end, for God's glory.
Study:
The following verses as you reflect on your duty to help the vulnerable:
Proverbs 24:11-12 /// Proverbs 31:8-9 /// Philippians 2:3-4 /// Psalm 82:4
Remember:
No matter how small it may seem, you can always do something to help preborn children, their parents, abortion workers, and political representatives. Most of these suggestions are fast and easy to put into action and have the potential to save many precious lives.
Download:
Get your free printable Lifeguard cheat sheet – all the points mentioned in this post on one 'easy-to-refer-back-to' page. Also included is a list of resources and links to pro-life organizations that will make it easy for you to start taking action right now.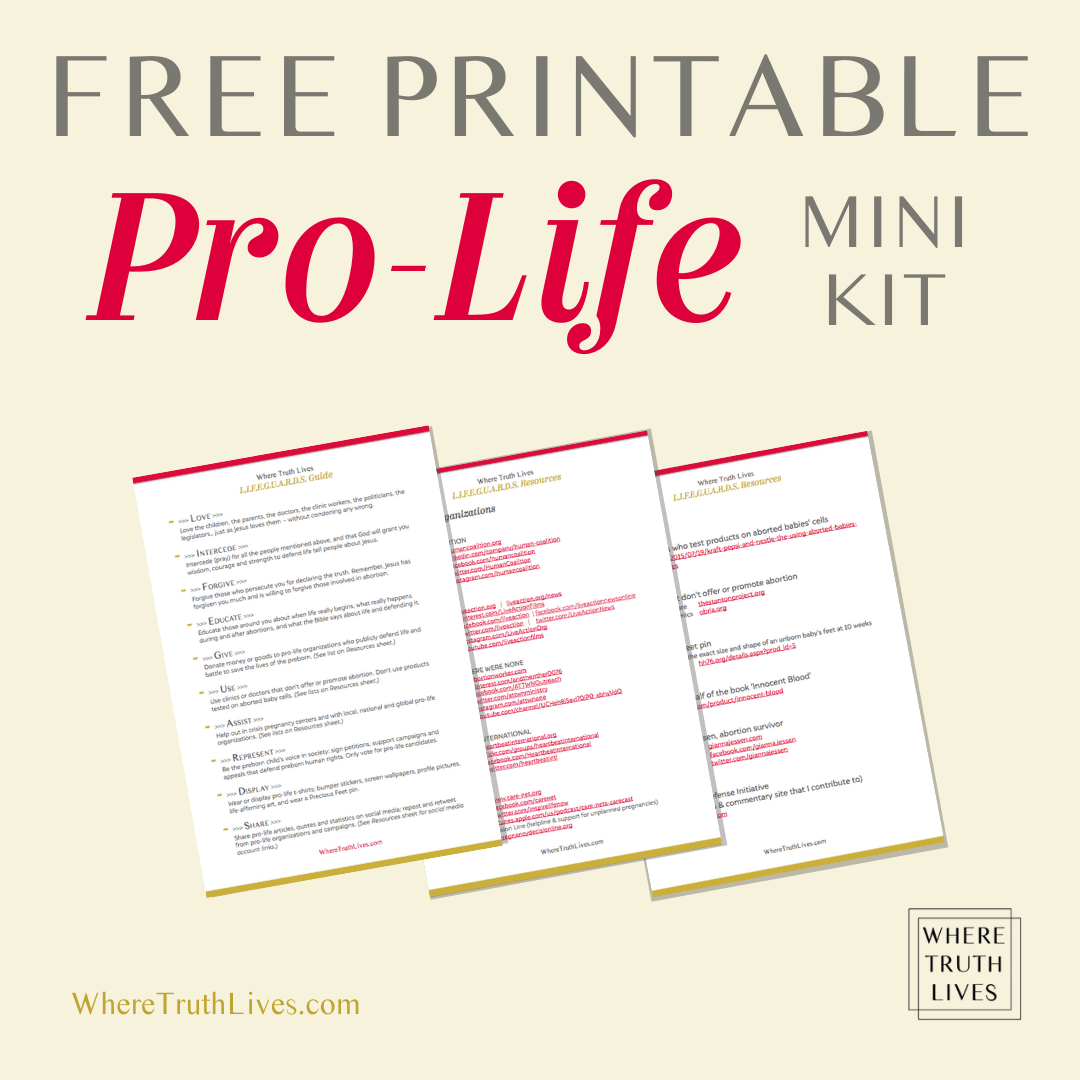 Pin this for later: