Did you know that your voice and your story are the instruments of God? Take heart – He can use your tears and trials to echo a melody of hope…
---
What's your favorite musical instrument?
It's a question that gets a variety of answers: popular ones like 'Piano' and 'Guitar'. Perhaps 'Drums'. Maybe less common ones like 'Harp', 'Cello', 'Trumpet' or 'Banjo'.
From all the people I've asked, no one has responded with my own favorite instrument.
The answer I would give if you asked me?
'Voices.'
I like the quirky sound of a banjo, and there's something that grips my soul when I hear a violin, but nothing can beat the sound of a voice.
Musical instruments – the ones you can touch, and pick up and hold – they're man-made.
But voices… Oh…
 
ADVERTISEMENT
Voices are God-made.
Genesis 2:7 tells us that God breathed into man the breath of life and man became a living being.
Then the Lord God formed man of dust from the ground, and breathed into his nostrils the breath of life; and man became a living being.
I've heard some pretty skilled musicians – and some are even said to make their instrument 'come alive'. But at the end of the day, it's the person playing it who's alive. The guitar or flute is silent once the musician sets it down.
Voices are unique, too.
Walk into any music shop with a friend and you could both buy the same brand of instrument, the same color, the same key. But, you can't get someone else's voice, because no two voices are alike.
God doesn't make clones, he makes individuals.
Each person that He knitted together in their mother's womb is one-of-a-kind. (see Psalm 139:13-16)
Each voice is marked by a different tone, a different pitch, a different timbre. And each voice tells a different story.
The same One who created the sounds of each voice has appointed the circumstances of the person who carries it. And just as each voice has a different resonance, each life has a different venue.
Ultimately, though, we all have the same purpose: to glorify God.
How that will be accomplished in each of our lives will display the diversity and majesty of our God's creative genius.
There's one thing of which we can be certain, though…
 
ADVERTISEMENT
His signature sound involves suffering.
We have a tendency to view trials as hindrances and obstructions. Things to get through, get past and get over so we can get back to our real life.
Does it ever occur to us, though, that not only are trials part of our 'real life', but they have been ushered in for a divine purpose?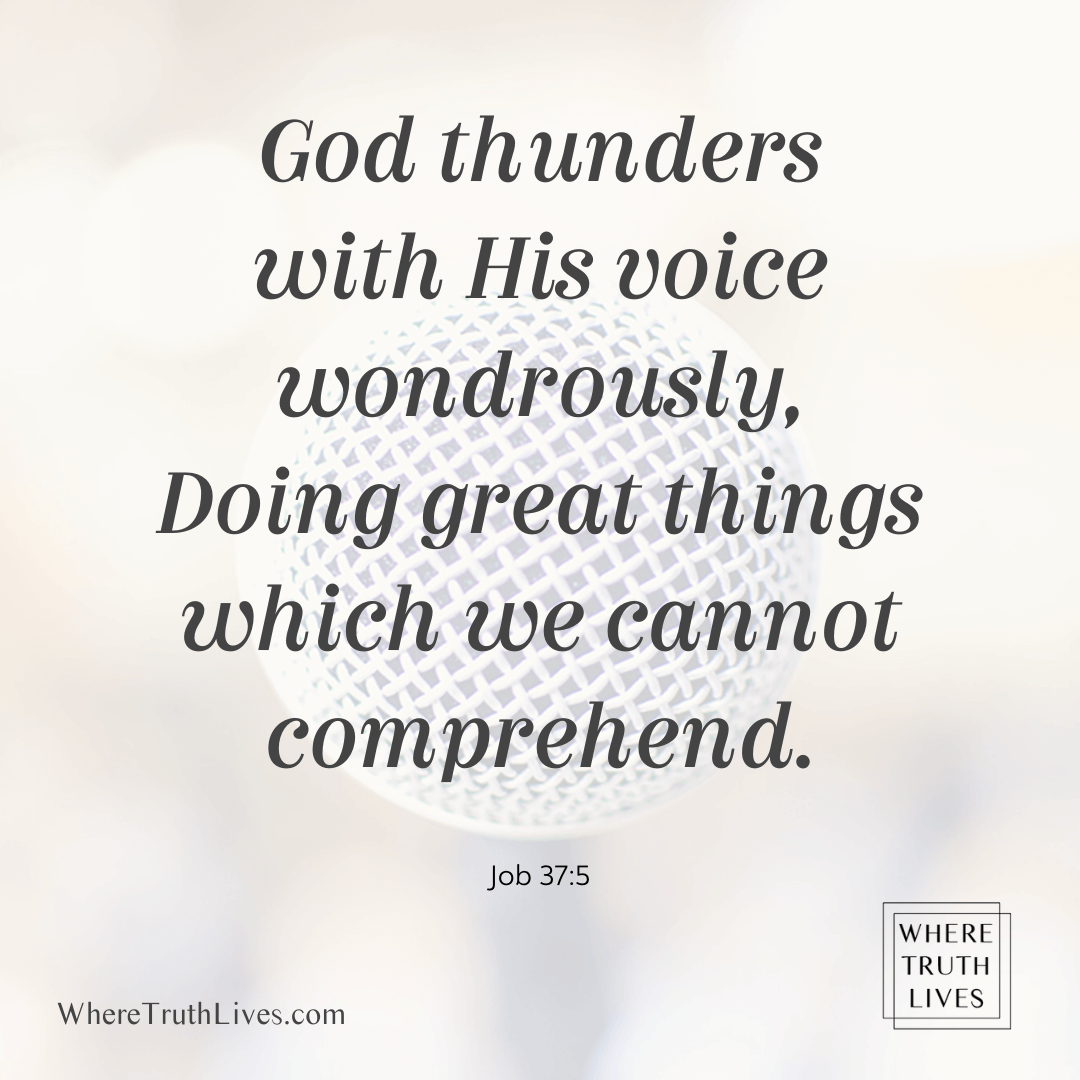 Isn't it true that the mundane, the ordinary… it doesn't seem to have much of an impact?
But when we meet or hear about someone who bravely navigated a terminal diagnosis or people who triumphed over heartbreaking adversities, or someone who lives every day in difficult and painful circumstances… it gets our attention.
We want to know more about them. About how they not only survive but, in some cases, thrive.
We want to know how we can have the same courage, the same perseverance… the same hope.
God, in His wisdom, has appointed various trials as part of our 'real life', so that we can be signposts to others to help them find Life.
Jesus said to him, "I am the way, and the truth, and the life; no one comes to the Father but through Me." (John 14:6)
Our voices, our trials… they are instruments of God.
He uses them to play the tune of His grace, to broadcast the melody of hope that only He can give.
He uses them to encourage others; to put the song back in the heart of the one who has grown silent with despair.
And He does all of this for our good (see Romans 8:28) and for His glory (see Isaiah 43:7).
I urge you today – surrender your voice and trials to Him… and in everything you do and go through, may you glorify the One who gives songs in the night.
 
The Lord will command His lovingkindness in the daytime;
And His song will be with me in the night,
A prayer to the God of my life.
(Psalm 42:8)
>>> LIVING IT OUT >>>
Pray:
That God will be glorified in your mundane-filled days and in your trial-filled days alike and that He would use your voice, your story, to whisper hope to others who need it.
Study:
Psalm 100 and reflect on how He is our Creator, our Redeemer and is worthy of all our praise.
Remember:
God will use your voice and your trials to broadcast His melody of hope. You can have confidence and trust in Him even in hard times.
Explore:
Below, are some links to stories of hope amidst heartbreak that God's voice and purpose "thunders wondrously" through. I pray that you will be encouraged by them, and find reasons to sing His praise, even during seasons that you don't understand.
Access the Free Printable Library
(and get the latest news, freebies and exclusives in your inbox)
Pin this for later: