Do you know how many new blog posts are published worldwide on a daily basis?
2 million.
2 million. New blog posts. Every. Single. Day.
In other words?
That's 14 million new posts going out into the blogosphere every single week.
Including yours.
So, while you're spending time and energy to write a post, make graphics, make opt-ins, publish it and promote it, there are 2 million other people doing the exact same thing day after day… after day.
How does that make you feel?
Competitive? Overwhelmed? Does it make you wonder what the point is?
Is there even a point? After all, if you had 2 million people in one place and they all started talking at the same time… how many people would even be able to hear what you had to say anyway?
So, where's the hope?
Why should you keep blogging when there are so many other voices trying to be heard?
There are 3 reasons I'd like to share with you. Three reasons why I hope this post encourages you to keep blogging, keep writing, keep publishing, and keep giving it your best effort.
 
ADVERTISEMENT
REASON 1: YOU WERE DEAD
Look at Ephesians 2 with me. Read the first 2 verses:
And you were dead in your trespasses and sins, in which you formerly walked according to the course of this world, according to the prince of the power of the air, of the spirit that is now working in the sons of disobedience.
(Ephesians 2:1-2)
You're a Christian blogger. Which means that, first and foremost, you are a Christian.
But you weren't always.
You're a child of God now, but before you met Jesus?
You were a child of wrath.
Among them we too all formerly lived in the lusts of our flesh, indulging the desires of the flesh and of the mind, and were by nature children of wrath, even as the rest.
(Ephesians 2:3)
You were an enemy of God.
At one time you were far away from God and were his enemies because of the evil things you did and thought.
(Colossians 1:21, GNT)
You were a hopeless stranger.
…you were at that time separate from Christ, excluded from the commonwealth of Israel, and strangers to the covenants of promise, having no hope and without God in the world.
(Ephesians 2:12)
And let's not forget… you were dead.
 
ADVERTISEMENT
REASON 2: HE MADE YOU ALIVE
So there you are, dead in your sins.
Then, something amazing happens:
But God, being rich in mercy, because of His great love with which He loved us, even when we were dead in our transgressions, made us alive together with Christ (by grace you have been saved)
(Ephesians 2:4-5)
God breathed life into your dead heart.
He opened your dead eyes to see His beauty.
He opened your dead ears to hear His truth.
And He awakened your dead soul to cry out to Him for mercy.
You realized that your only hope to be reconciled with God was to accept the payment that Jesus gave for your sin's unfathomable debt.
And, even though you were a hopeless enemy who was under His wrath, He forgave you and made you His beloved child.
Why? The verse we read just told us: "because of His great love". Because He is "rich in mercy". Because He extended His "grace" to you when there was nothing about you that deserved it.
So, now you're a Christian. A follower of Christ. Someone who has been redeemed by His blood.
You have been set free by His Spirit.
So if the Son makes you free, you will be free indeed.
(John 8:36)
You have been made new.
Therefore if anyone is in Christ, he is a new creature; the old things passed away; behold, new things have come.
(2 Corinthians 5:17)
You have been adopted into His family.
He predestined us to adoption as sons through Jesus Christ to Himself, according to the kind intention of His will…
(Ephesians 1:5)
What does all this have to do with your blog? Everything…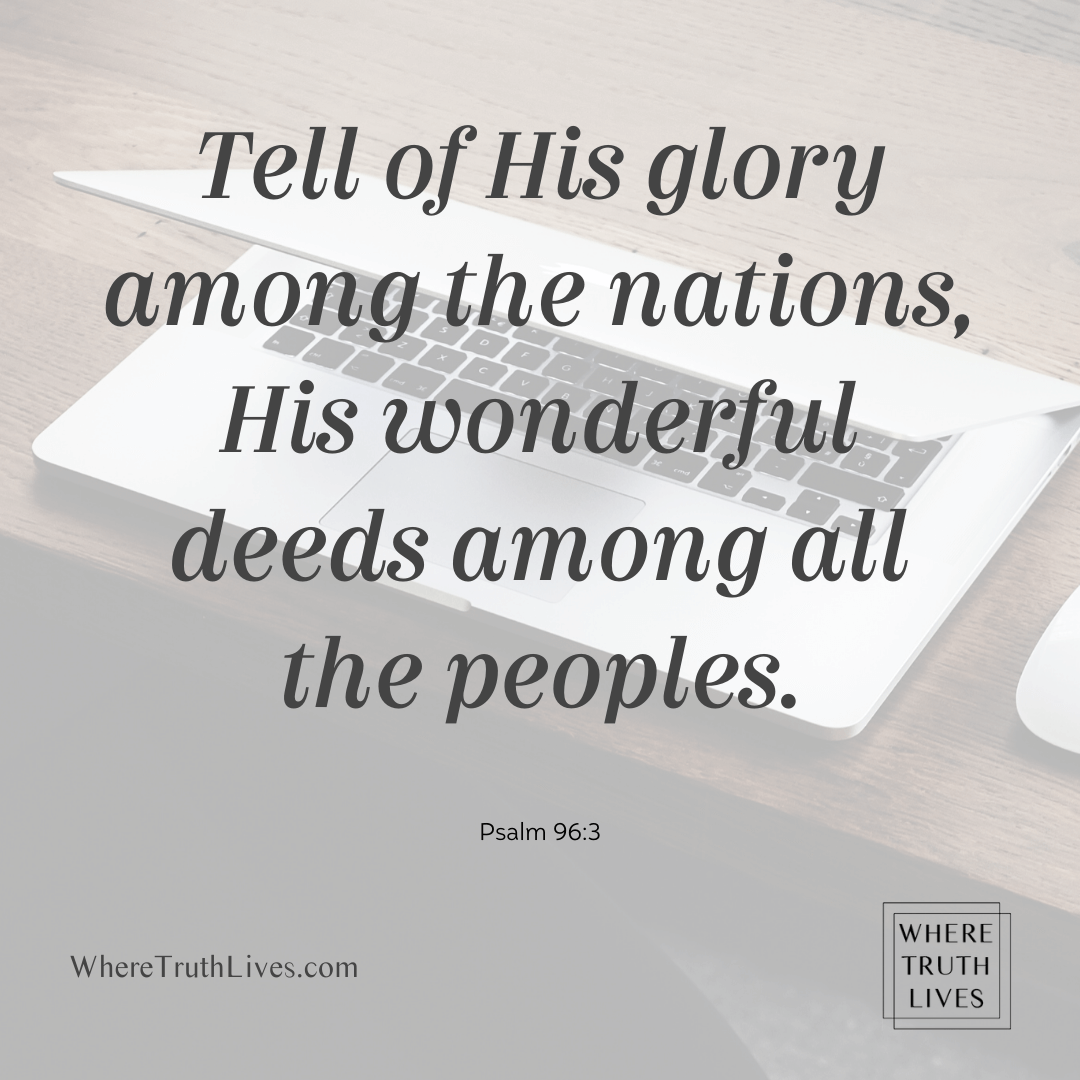 REASON 3: THE BUILDING IS GROWING
You were dead. God made you alive. That in itself is astounding.
But it doesn't end there…
We know WHY God made you alive – because of His great love, His rich mercy, and His kind grace.
But what FOR? What's the purpose behind it?
While it IS all for His glory, it's not all for His benefit, nor yours…
You see, He's not finished making people alive yet.
He made you alive, "so that in the ages to come He might show the surpassing riches of His grace in kindness toward us in Christ Jesus" (Ephesians 2:7)
God is building His kingdom, and all the people He brings in become living stones in His temple, and part of the epic story of His love, mercy, and grace.
So then you are no longer strangers and aliens, but you are fellow citizens with the saints, and are of God's household, having been built on the foundation of the apostles and prophets, Christ Jesus Himself being the corner stone, in whom the whole building, being fitted together, is growing into a holy temple in the Lord, in whom you also are being built together into a dwelling of God in the Spirit.
(Ephesians 2:19-22)
And He intends for YOU (and in this case your blog, too) to play a part in it all.
For we are His workmanship, created in Christ Jesus for good works, which God prepared beforehand so that we would walk in them.
(Ephesians 2:10)
Allow me to restate an earlier point: You're a Christian blogger. Which means that, first and foremost, you are a Christian.
What sets your voice apart from most of the 2 million other ones? The fact that you're a representative of Christ – you're redeemed, free, new, clean.
But you weren't always. You were dead.
And plenty of other people still are.
So, why should you keep talking when you're not even sure who can hear you?
Because the words you are speaking will point others to the One who redeemed you and brought you back to life… so that He can redeem them and bring them back to life, too.
Your life, your blog, is for a purpose much bigger than you can see.
Only fear the Lord and serve Him in truth with all your heart; for consider what great things He has done for you.
(1 Samuel 12:24)
The world is changing. Rapidly.
Oh, friend – the world needs your blog. People all over the world need to hear your voice telling them the truth.
 
Tell of His glory among the nations, His wonderful deeds among all the peoples.
(Psalm 96:3)
They may not like it. They may not want to hear it. But they need it more than they know.
Can you imagine being in heaven and meeting someone who is there because of something you wrote? Because you took the time to pour out passionate words about God's mercy and love?
God is building His kingdom, and He will use your words, your blog, your life.
Will you write the hard truths? Will you share the good news?
Friend, I hope you will. I can't wait to read it!
And millions of others are waiting, too.
So.. what are you going to tell them first?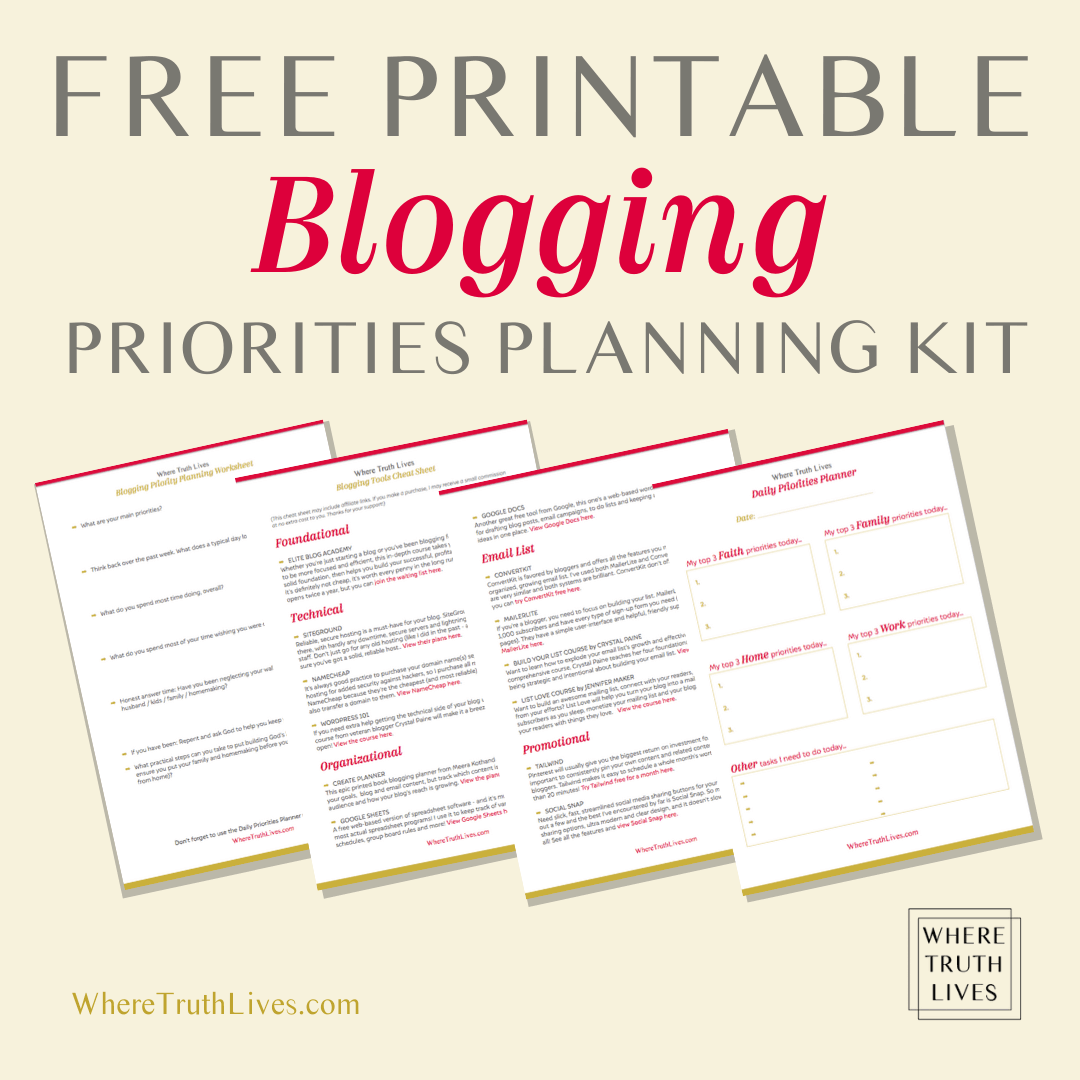 Pin this for later: