Do you struggle to find time to pray every day?
I get it. You're a busy mom. You've got kids to care for, a home to run and projects that need to be worked on.
Somewhere amidst the meals you cook, the sheets you change, the homework you check, the diapers you change, the toys you tidy, the floors you vacuum, the dishes you wash, the posts you publish and the surfaces you clean, you sigh and wish you had an hour or two just to breathe, nevermind to spend time in prayer.
But prayer is something we can't neglect or skimp on.
1 Thessalonians 5:17 tells us to "Pray without ceasing", Ephesians 6:18 says to "…pray at all times in the Spirit…", and Colossians 4:2 leaves no doubt about it: "Devote yourselves to prayer…
So how can you find time to pray every day even when you feel like you don't have time for anything?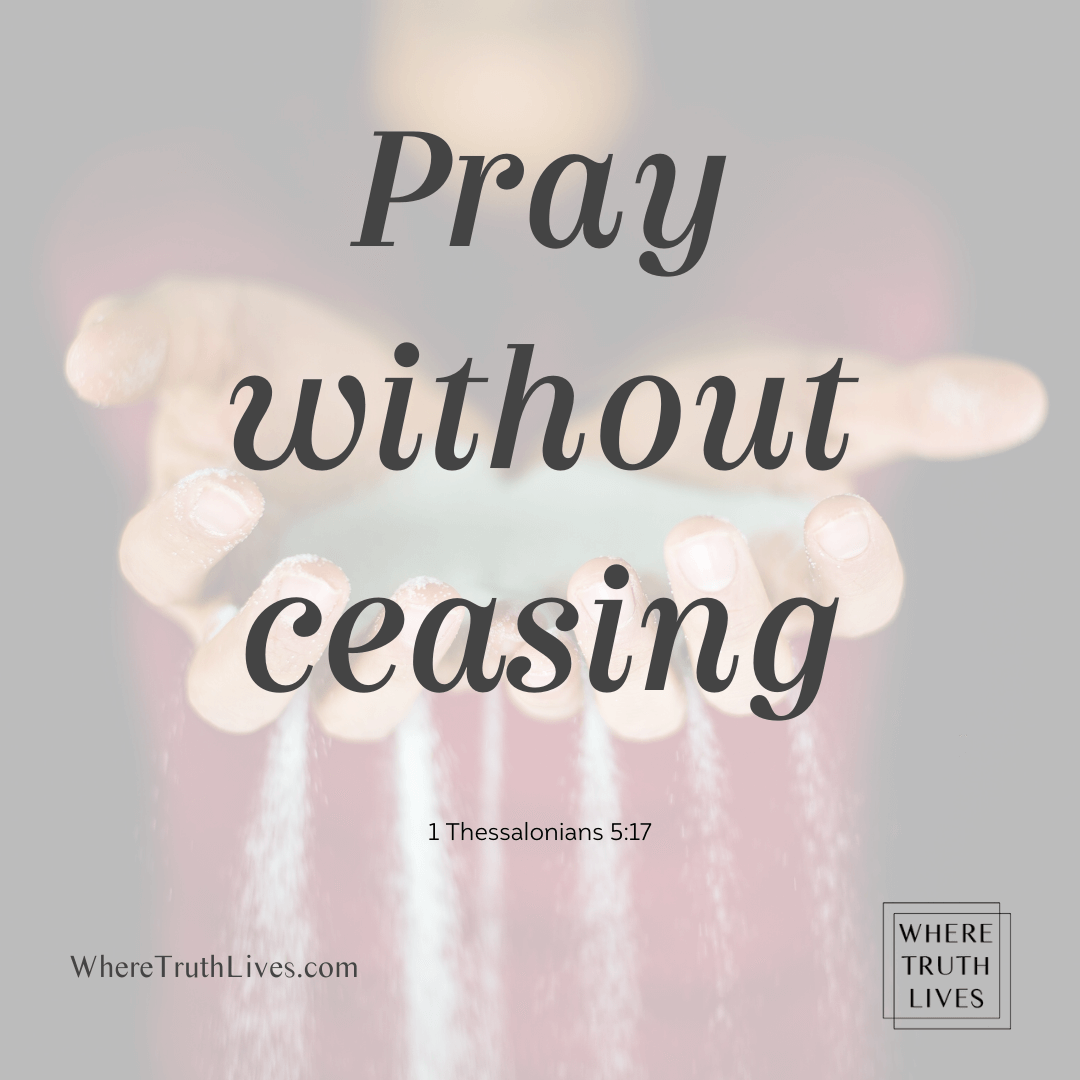 APPROACHING PRAYER DIFFERENTLY
Let me ask you another question:
What if you're completely missing the point when it comes to prayer?
To spend time in prayer, do you always have to spend 3 hours at a time? Or have a clear schedule? Does it always have to be silent around you? Do you always have to be on your own?
Don't get me wrong – there's definitely a time and place for that kind of prayer, and if we're able to carve out alone time with God in prayer every day, we will notice a huge difference in our spiritual fruit.
But, instead of looking at prayer as a huge sandglass looming over you, look at it another way…
What if, instead of an activity that absolutely must last a specific amount of time or it doesn't count, you look at prayer as more of a way of life?
 
ADVERTISEMENT
Here are five simple ways you can have time for prayer every day…
>>> 1:  Pray Before Your Feet Hit The Ground
One way to accomplish this is to wake up earlier. (I know, I know – start with the obvious one, right?)
But it stands to reason that if you feel like you won't be able to catch a free moment during your day, why not try to catch one before the day really begins?
Try waking up even 20 minutes earlier and praying while you're still tucked up in bed.
Ask the Lord to energize you, to help you with whatever the day is going to bring and most of all, ask Him to help you glorify Him. Then praise and thank Him for all the people and practical things He has blessed you with.
>>> 2: Pull The Prayer Trigger
We are creatures of habit. And early on we learn to connect particular activities to particular meanings.
One way to pray without ceasing throughout your day is to train yourself to correlate certain activities or objects to a particular kind of prayer need.
For example, every time you make a cup of coffee, pray for your husband and kids.
Every time you're standing waiting in a line, pray for courage to stand strong in the truth.
Or, every time you make the beds, pray for the homeless.
Sidenote: See the bottom of this post for a free printable with even more prayer trigger ideas!
>>> 3: Go Into Your (Water) Closet
One place you are usually alone for a few minutes is the bathroom. (Unless you have kids under 5, in which case, even if you get in there alone, there's going to be a little voice calling at the other side of the door…)
Take advantage of this time (breathe!), then pray while you are in there about whatever God has placed on your heart.
Then, as you wash your hands before you leave, thank Him for washing you clean through Jesus.
Weaving prayer into everyday parts of your life really adds up and has more of an impact than you think.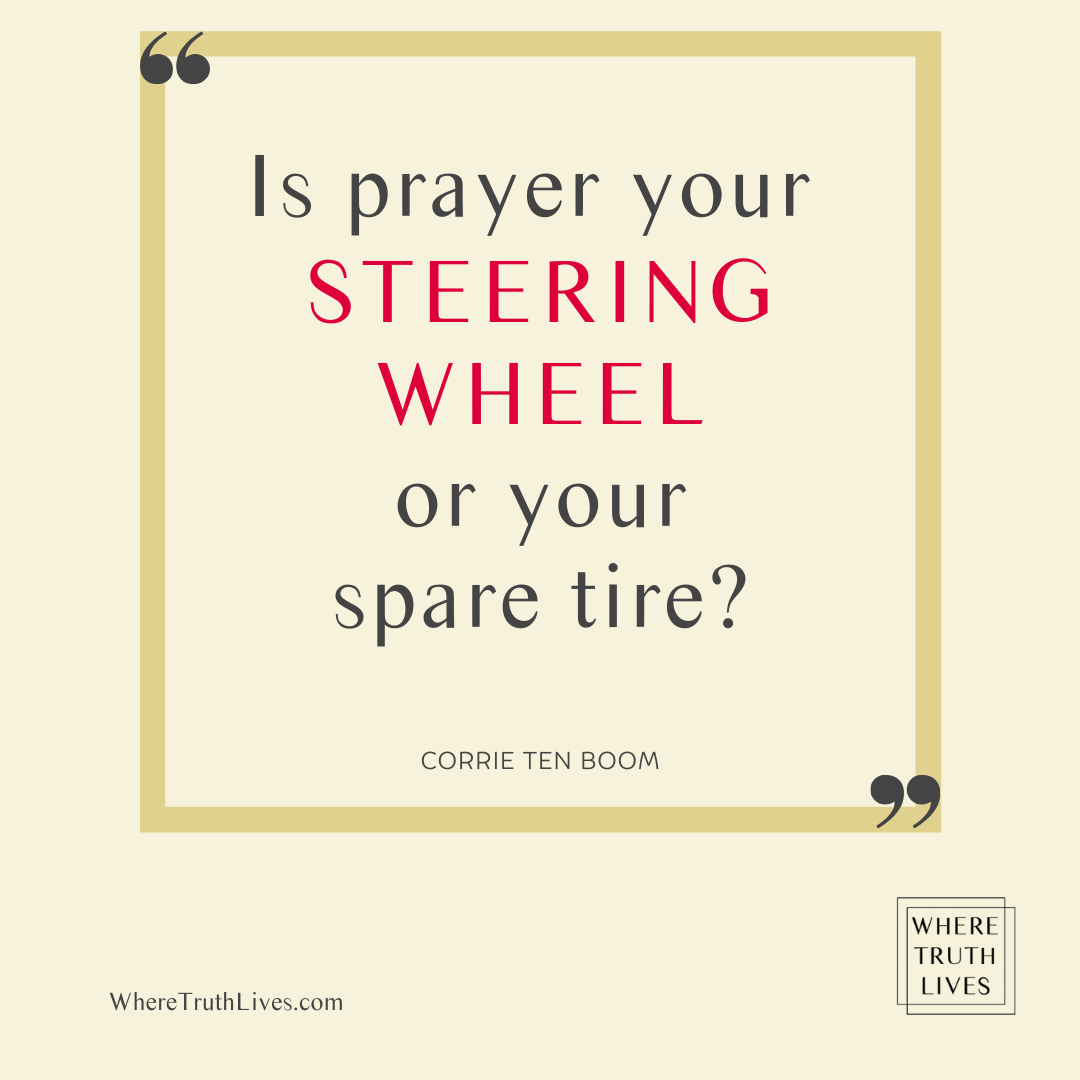 >>> 4: How About A War House?
I'm just going to say it straight: If you haven't seen War Room yet, you need to watch it as soon as possible! It will revolutionize how you pray and your attitude towards prayer.
(Then, get the audiobook of Fervent for free with an Amazon Audible trial and listen to it while you make dinner, or do your laundry, etc.) Your prayer life will never be the same again!)
In War Room, Miss Clara writes out prayer strategies (which Priscilla Shirer's book, Fervent, will teach you) and pins them up in her closet (a.k.a. her War Room) to guide her as she prays.
Why not use a combination of written prayers, Bible verse art, and even framed photos or Christian decor as prayer prompts in each room of your house?
That way, if you can't slip away into your closet for dedicated prayer time, you can still keep your focus on prayer no matter where in the house you are.
Sidenote: Wish you could have a prayer prompt for every single day of the year? You can – keep reading!
>>> 5: Simply Print & Systematically Pray
Corrie Ten Boom once asked, "Is prayer your steering wheel or your spare tire?"
If you're like most busy Christian moms, you really want prayer to be your steering wheel, but you just don't have the focus, time or balance (between asking and thanking) that you wish you had to enable you to really go deep in prayer.
But what if you had a system to help you get started? A system that would hold your hand and guide you into making prayer a habit. Then once it was habit, would help you stay on track and pray with focus, power, and balance?
That's what the Devoted Prayer Kit can do. It's a treasure trove of prompts and patterns, designed to help you pray consistently and strategically. No more uncertainty – this will help you know what to pray, when, and how.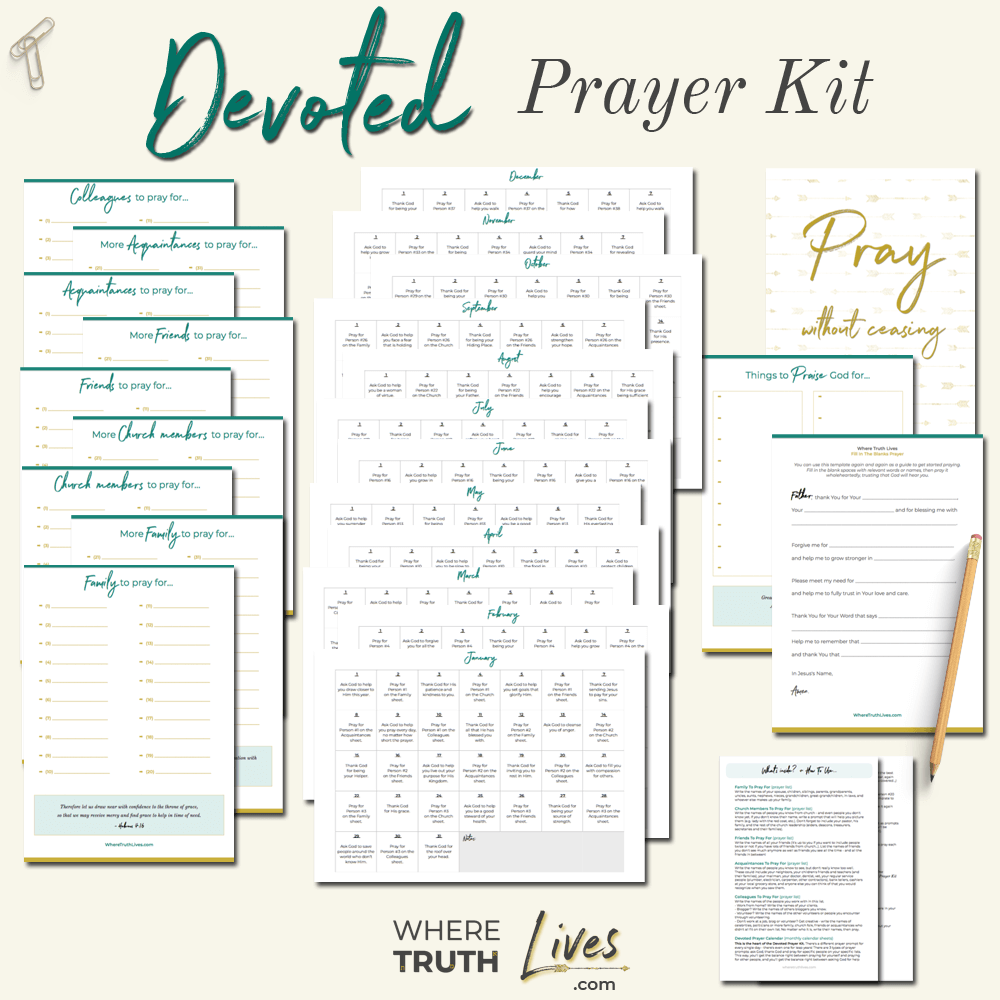 There are over 30 printable pages, including monthly calendars with prayer prompts for every single day of the year (even leap years!), multiple focused prayer lists to use with the calendars, a praise list, a fill-in-the-blanks template prayer to help you when you don't know what to pray and so much more.
If you want to pray with consistency, focus, and purpose, click here to find out more about the Devoted Prayer Kit.
DEVOTE YOURSELF TO PRAYER!
Next time you're drinking a cup of coffee, washing your hands or making dinner, try putting these tips into practice. It won't be long until you notice a difference!
And if you're tired of praying inconsistently, or never knowing what to pray, consider investing in the Devoted Prayer Kit. It's extremely affordable, and what it will help you do (pray consistently and courageously) is priceless.

>>> LIVING IT OUT >>>
Pray:
That the Lord will help you come to Him more frequently in prayer, even if it's only for a few minutes at a time. Ask Him to help you make prayer a habit and to help you remember to praise Him, too.
Study:
These passages and reflect on how these could help you go deeper in prayer as you seize moments for prayer throughout the day:
Matthew 6:5-13 /// Luke 18:1-17 /// James 4:3 /// 2 Chronicles 7:14
Remember:
Seek Him and draw near to Him every chance you get. And thank Him for His precious and beautiful promise: if you draw near to Him, He will draw near to you. (see James 4:8).
Download:
Your free Prayer Triggers cheat sheet (below), print it and start weaving prayer into your everyday routine.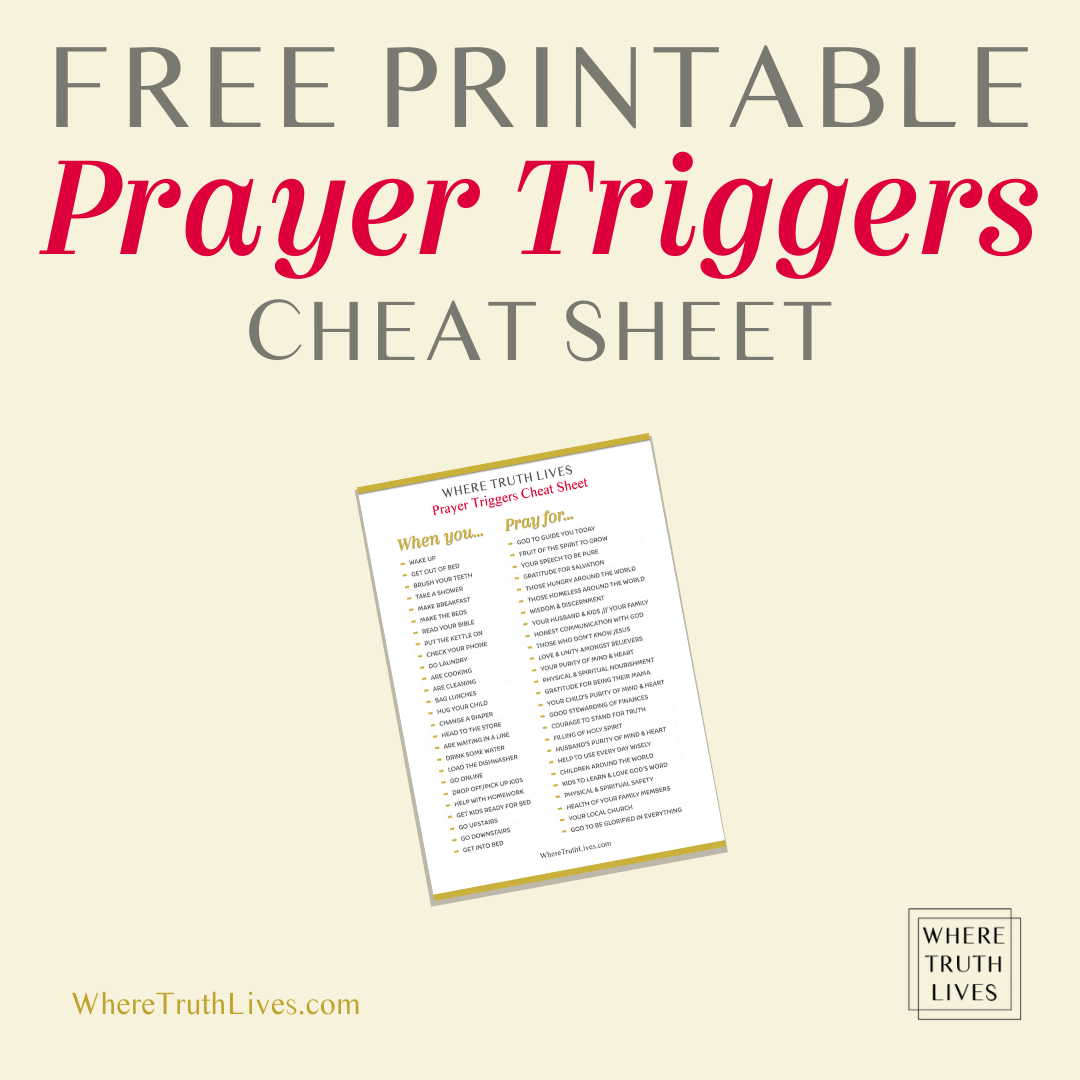 Pin this for later: