Is your marriage stale? Or worse, is it struggling? Does divorce sometimes seem like a tempting solution?
There are lots of resources and help available to you, such as pastoral care, books, marriage counseling, retreats, and courses.
But what if there was something you wouldn't expect that could help to not only strengthen your marriage but save it from divorce?
 
WHEN MARRIAGE GETS SHAKY
Trust. Communication. Connection.
These are the most common aspects of marriage that break down over time and when they do, they lead to distance, separation and even divorce.
Misunderstandings and frustrations can build and build until the only way to move forward seems to be by going in different directions.
Ruth Graham once said:
A happy marriage is the union of two good forgivers.
Thus, an unhappy marriage is one that harbors unforgiveness, which often leads to quarreling, bitterness, and resentment.
 
ADVERTISEMENT
However, the Bible instructs that followers of the Lord are not to be quarrelsome (or, argumentative) but are to be kind, and patient when wronged. (see 2 Timothy 2:24).
This applies to all areas of life – including your marriage.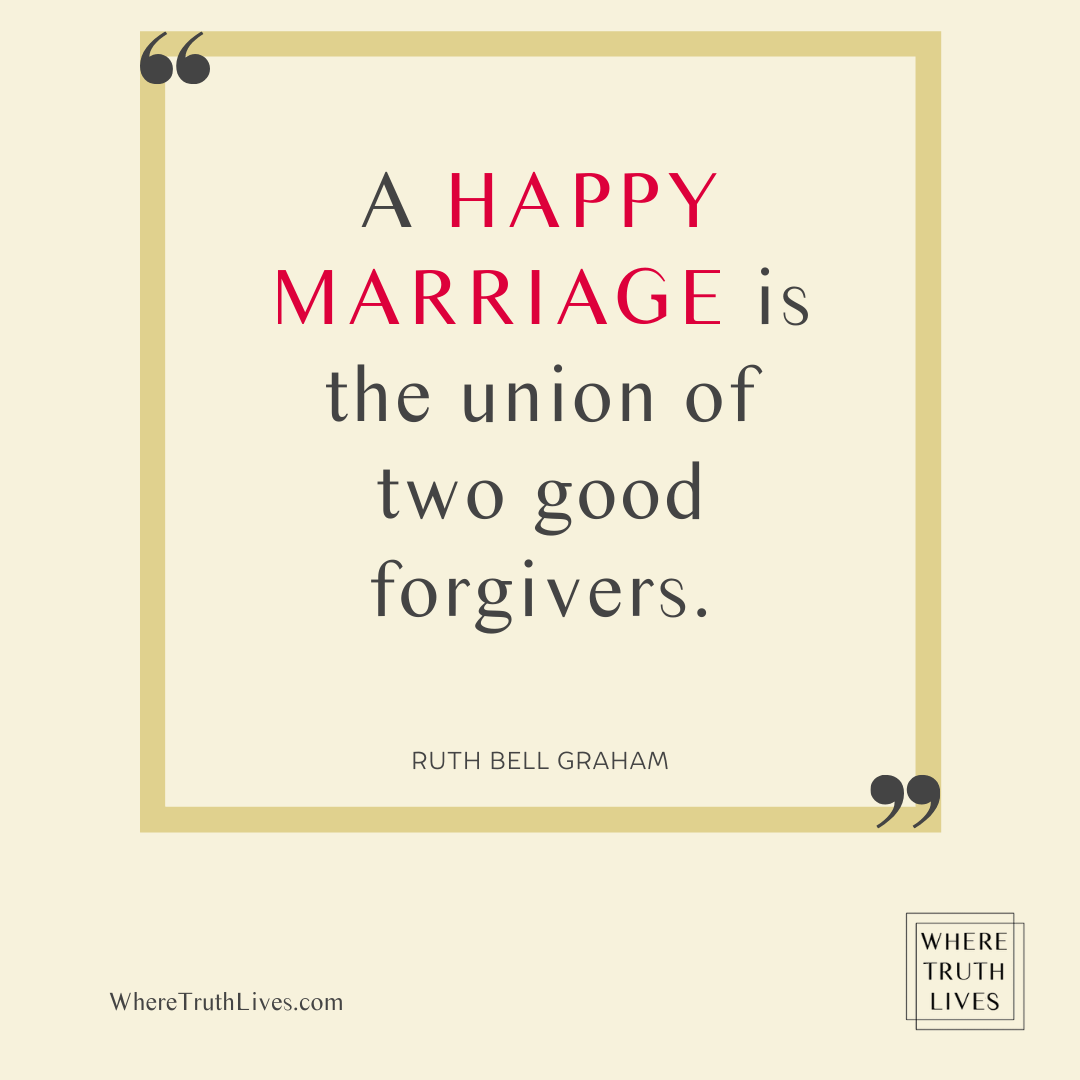 This doesn't mean that if your husband is sinning you should turn a blind eye. There are times when it is necessary to seek outside help, especially if you or your children are in danger.
The vast majority of the time, though, it's little things that destroy marriages. A word here, a sigh there, a look here. Something so small can be misunderstood, exaggerated or resented.
Why?
Because the human heart is selfish at its root.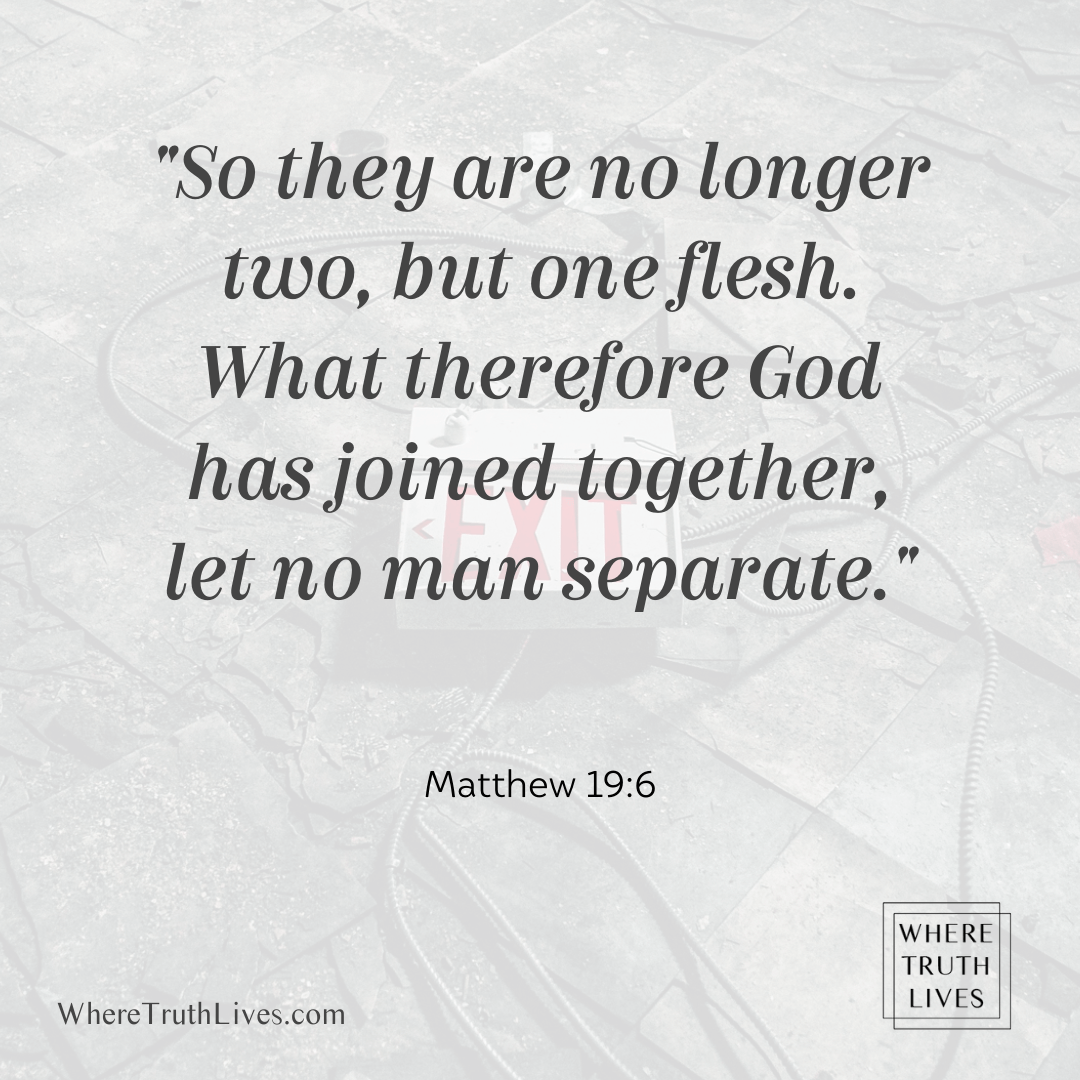 THE ROOT OF RESENTMENT
Marriage changes everything. It's not just you anymore – now you're a duo, a team. Decisions must be agreed upon together. Everything you do affects your husband, and everything he does affects you.
When things are going smoothly, it's a joy. You've got a partner for life and you're never alone.
When things are getting rocky, your knight in shining armor can seem more like a ball and chain. Instead of enjoying his constant company and companionship, you feel trapped by his constant presence.
Why?
Because selfishness breeds discontent, dissension, and disillusionment.
And doubt.
Just one seed of doubt can change the course of your entire life.
Look at Eve:
Now the serpent was more crafty than any of the wild animals the Lord God had made. He said to the woman, "Did God really say, 'You must not eat from any tree in the garden'?" (Genesis 3:1)
Four simple words… and they derailed the entire human race. Eve allowed the seed of doubt to be planted in her heart, which produced a harvest of death and despair that continues to this day.
"Did God really say…?"
Doubt is a killer.
 
ADVERTISEMENT
THE HEART OF THE PROBLEM
Could it be that most of your marriage trouble could be solved by fixing your heart?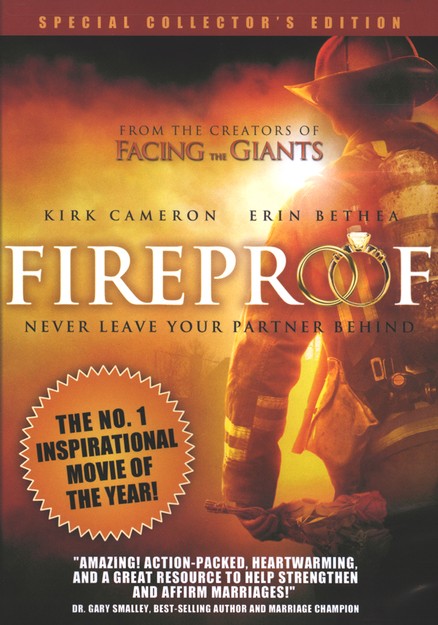 In Fireproof, Caleb (Kirk Cameron) and Catherine (Erin Bethea) have grown apart. Their marriage is sinking – fast.
One day, Caleb's dad mails him a hand-written journal with The Love Dare in it. It's a 40-day challenge that Caleb's dad hopes will save his son's marriage before it's too late.
Caleb reluctantly agrees to try it. But as he goes on, Catherine only seems to grow colder and colder toward him, until one day she tells him, "I do not love you anymore."
Hurt and angry, Caleb calls his dad, who travels down the next day to have a heart-to-heart with his son.
As Caleb argues against his dad's wisdom, the truth is revealed. The problem is a heart one.
And there's only one way to fix it…
The heart is more deceitful than all else and is desperately sick; who can understand it?
(Jeremiah 17:9)
COULD A MOVIE REALLY HELP?
Christian movies are more than mere entertainment. They have a purpose and a unique way of encouraging and giving hope.
And in this case, the answer to the question is: yes. A movie really can help.
I know of a couple who were on the brink of divorce. They were separated and it was only a matter of time until the divorce would be final.
Then someone in my family gave them a Fireproof DVD.
They got back together. They're still married, and their marriage is stronger now than ever.
Why?
Because a movie that honors God can be used by God to accomplish His will.
WILL YOU FIGHT FOR YOUR MARRIAGE, NOT AGAINST?
One of the characters in Fireproof advises:
"Don't just follow your heart, 'cause your heart can be deceived… you've got to lead your heart…"
If your marriage is shaky, I urge you to pray and to watch Fireproof (preferably with your husband).
If nothing changes, or if he's not interested in watching it, keep praying and do The Love Dare on your husband (it's available in paperback and imitation leather binding). You might just find that as you work through it, the Lord will tune both your hearts in line with His word and will.
 
However, if you've tried watching Fireproof and prayerfully completing The Love Dare and your marriage is still struggling, please seek Biblical marriage counseling. Your marriage is a gift from God, and He is the only one who can help you with whatever problems you're facing within it. Pray, trust and love.
So, as those who have been chosen of God, holy and beloved, put on a heart of compassion, kindness, humility, gentleness, and patience; bearing with one another, and forgiving each other, whoever has a complaint against anyone; just as the Lord forgave you, so also should you. Beyond all these things put on love, which is the perfect bond of unity.
(Colossians 3:12-14)
>>> LIVING IT OUT >>>
Pray:
That God will help you to be the wife your husband needs and that He will help your husband be the husband that you need. Pray for His protection over your marriage and that He will strengthen and unite you and your husband in Him.
Study:
Ephesians 5:22-33 /// Hebrews 13:4 /// 1 Peter 3:1-9 /// Matthew 19:3-9
Remember:
No matter what you've been going through in your marriage – there is hope. God can do miracles – He has restored broken, struggling and stale marriages for others, and He can do the same for you. Seek Him in prayer, follow His word and trust in His timing.
Watch:
Fireproof
Buy DVD | Buy Blu-ray | Rent on Amazon Video | Buy on Amazon Video
Access the Free Printable Library
(and get the latest news, freebies and exclusives in your inbox)
Pin this for later: