Need affordable Christian gifts for men? Whether it's your husband, father, son, brother, uncle or nephew, these 10 gifts are each $10 or less!
---
I remember the anticipation I felt as I watched him reach out and accept the wrapped package I was offering to him. It was heavy and rectangular, and the paper that I'd chosen had anchors streaming boldly all across it.
He was thrilled when he opened it, and I was thrilled to see how delighted he was to receive the gift I had selected for him, that I knew he would love and use for many years to come. (It was a Chain Reference Bible, if you were wondering!)
That time, I knew what to get for him. But most times, I have no clue what to buy!
I find it so hard to not only find the perfect gift for my husband, but also for my father, my uncle, my nephew, my brother-in-law, my pastor and any other man I need to buy a gift for, whatever the occasion.
There are seemingly hundreds of suitable Christian gift options for women. The only problem there is trying to narrow your options down!
But when it comes to buying Christian gifts for men, it's always a challenge.
 
ADVERTISEMENT
That's why I thought I'd share this helpful list of 10 Christian gifts for men with you – in case you feel that same sense of puzzlement and overwhelm that I do.
Plus: even better than having a go-to list of Chrisitan gifts for men? Each gift on the list only costs $10 – or even less!*
[*Note: All items cost $10 or less at time of publication. Prices are subject to change.]
I've noticed that Christian gifts are often more expensive, but I was sure that it would be possible to find budget-friendly gifts if I looked hard enough… and I did!
Giving great faith-based gifts doesn't have to be super expensive. The main thing to focus on is encouraging the recipient's faith.
So, instead of waiting and wondering what to buy and then overspending in a panic, here is a handy gift guide to help you plan in advance and buy a great, affordable gift for the Christian man in your life.
Happy shopping!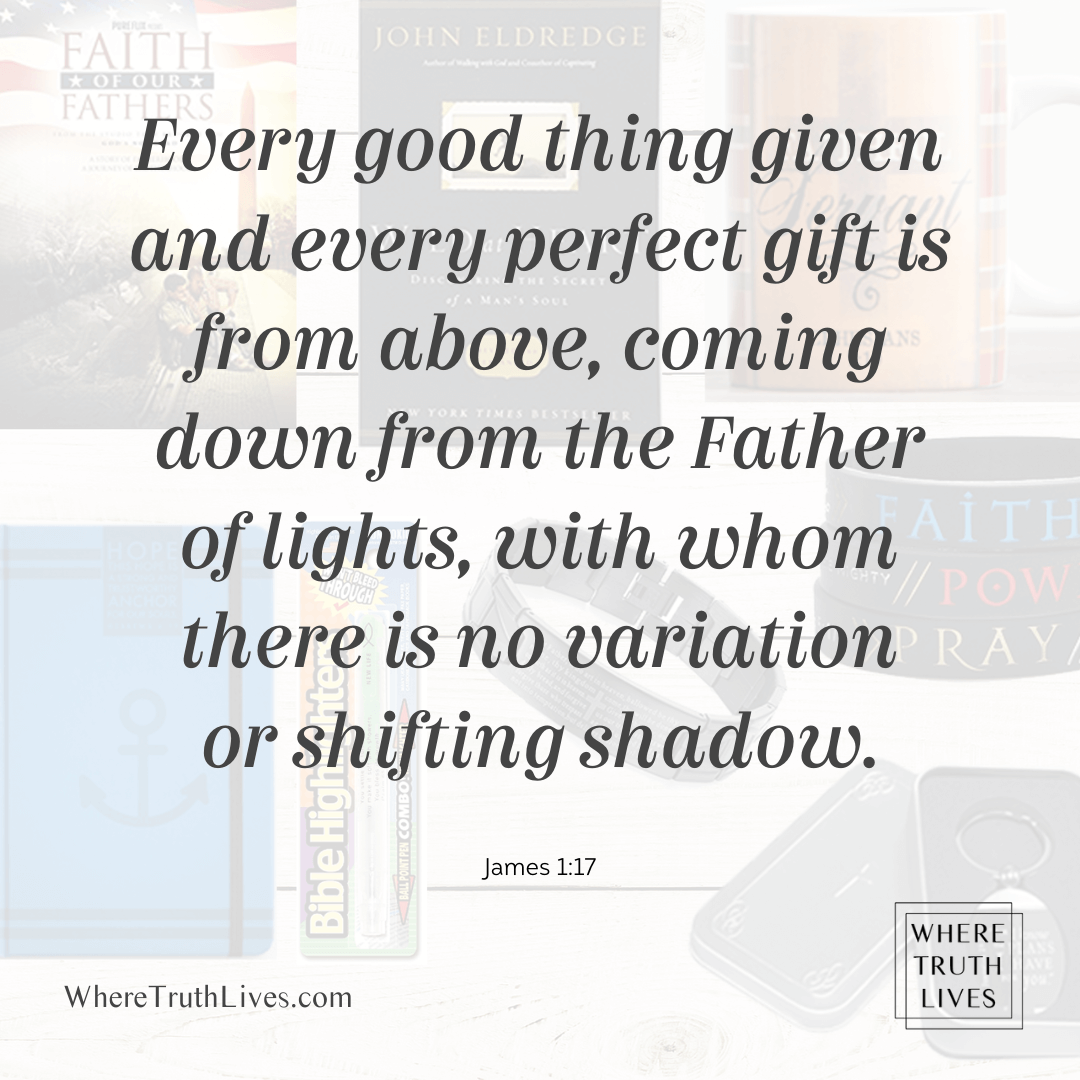 ---
Faith of Our Fathers DVD
War, guns, mystery, cars, police… this is a men's movie, for sure! (Although, I personally was really impressed with it when I watched it with my husband. Even though it features a lot of war scenes and references, it wasn't at all boring, ladies!) The two main characters are united by their fathers' service in Vietnam, and they could not be more different! David A.R. White is especially hilarious as a borderline wacko with deep secrets. It is a refreshingly different type of Christian movie, and it literally will make you laugh (a lot!) and cry….
---
Faith, Power, Pray bracelets
This pack of 3 Bible verse bracelets allows him to mix and match which colors and verses to wear each day. Made from silicone and featuring modern engraving styles, the bracelets are themed as:
• Power – featuring Ephesians 6:10: Be strong in the Lord and in his mighty power.
• Faith – featuring Hebrews 11:1: Faith is the substance of things hoped for, and the evidence of things not seen.
• Pray – featuring 1 Thessalonians 5:17: Pray without ceasing.
---
Wild At Heart: Discovering the Secret of a Man's Soul book
Men love adventure. It's in their blood. It's how they're wired. But in most churches, Christian men are well… nicey-nicey. Safe. Suited. And bored. In Wild At Heart, John Eldredge takes a deep dive into Scripture to discover how God made men – and why. That sense of adventure that dwells deep within the heart of every man is an echo of the purpose and calling that God breathed into the very first man, and every man since. This book "invites men to recover their masculine heart, defined in the image of a passionate God".
---
Jeremiah 29:11 keyring
This luxe-looking keyring is an ever-present reminder of God's sovereignty each time he uses his keys. The words "For I know the plans I have for you" from Jeremiah 29:11 are etched into it and comes in a lovely gift tin with a cross on the front.
---
Courageous DVD
This is a movie that every man should see. It's got it all – action, drama, comedy, plus biblical wisdom on how to be a godly man woven throughout every scene. The five main characters learn the reality and importance of being a godly man in all circumstances – even those of tragedy and temptation, with numerous challenges that threaten to bring them to breaking point. Which ones hold up under pressure and which ones let go of the wheel?
---
Hope Is An Anchor journal
This bright blue journal has an anchor motif on the front and meaningful Bible verses on each page. There's plenty of room to record thoughts, prayers and praises during daily quality time with the Lord. Journaling each day helps focus your faith and produces a valuable treasure trove of insight to look back on and see God's faithfulness.
---
Bible Highlighter combo pen
Half ballpoint pen, half Bible highlighter, this is great teamed with the Hope journal for an instant Bible study kit to help him grow in his faith! Features the text of Psalm 65:10 on the front: "You water its ridges abundantly, You settle its furrows; You make it soft with showers, You bless its growth." Non-toxic and doesn't bleed through thin Bible pages.
---
Lord's Prayer link bracelet
Very masculine and on trend, this black stainless steel bracelet comes in a few different styles and has the text of the Lord's prayer printed on it and features a cross motif, too. A stylish gift and also a great, wearable reminder to seek the Lord and His help anytime, anywhere.
---
The Resolution for Men book
A man's impact on his family and his influence in society is immeasurable. This book is a battle cry, calling men to live fully for Christ and as a result, influence the lives of many others. It equips all who read it to live bold, intentional lives, with a clear understanding of what matters and a firm resolve to be part of a much-needed revolution. It expands on the resolution mentioned in the movie Courageous and shows men how to live out each section with conviction, clarity and courage.
---
Faithful Servant mug
Help him remember Who he belongs to and Who he serves each time he serves himself a cup of coffee. This rustic, vintage effect mug has the words "Faithful Servant" and "Ephesians 2:10" displayed on each side. It has a lovely warm check pattern and is dishwasher and microwave safe, for added convenience! Makes an especially great gift for pastors and other Christian workers, though it's suitable for all men of God.
---
>>> LIVING IT OUT >>>
Pray:
That the Lord will help you be intentional about giving gifts to men (and women and kids!) that will grow their faith in some way. And ask for wisdom in knowing how much you should spend.
Study:
Titus 1:6-9 for a list of the attributes that godly men should have, and ask yourself the next time you're giving a man a gift if the gift will help him cultivate any of those attributes.
Remember:
It doesn't have to cost a lot to bless someone with a gift that will grow their faith.
Download:
I've made a free printable gift planner for you (below). Now that you have some gift ideas, you can easily plan and organize who you're going to buy them for!
FREE GIFT PLANNER FOR YOU!
There are many more great Christian gifts for men out there that are over $10 each, but I hope you've found a great (and affordable!) gift idea from the 10 that I've shared here!
And to help you keep track of the gifts mentioned above and who you might want to give them to, I've made a free printable Gift Planner. It features Bible verses to guide your gift giving, places you can shop for Christian gifts for men, women, and kids (insider info: Dayspring.com is my favorite! I could literally spend a fortune there… if I had one to spend!), and a clear-cut list to help you figure out who you're buying the gift for, when you're giving it to them, what it is and where you're buying it from. I hope you find it helpful!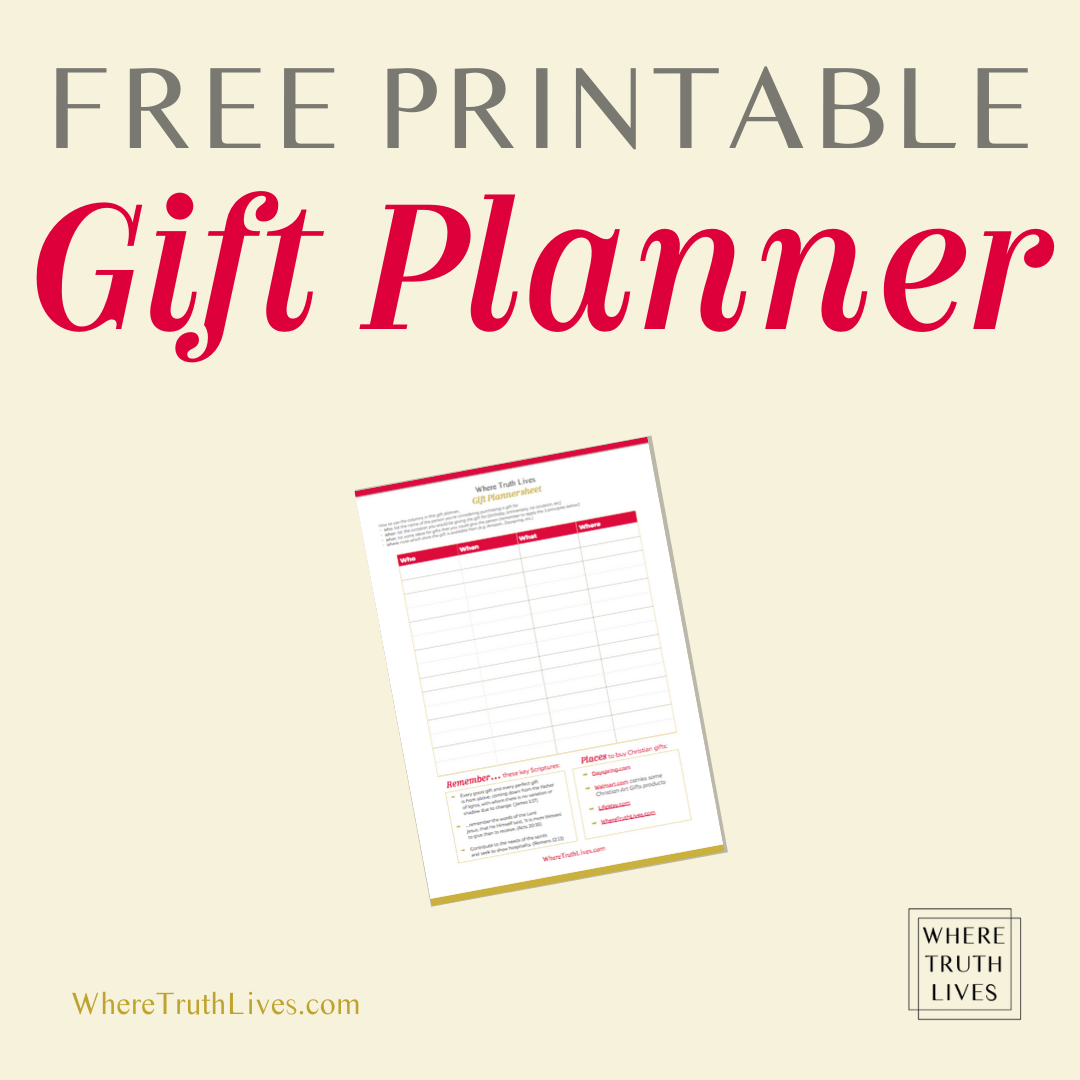 Pin this for later: