Thank you! Your freebie is on its way to your Inbox!
But wait… I've got a special offer just for you…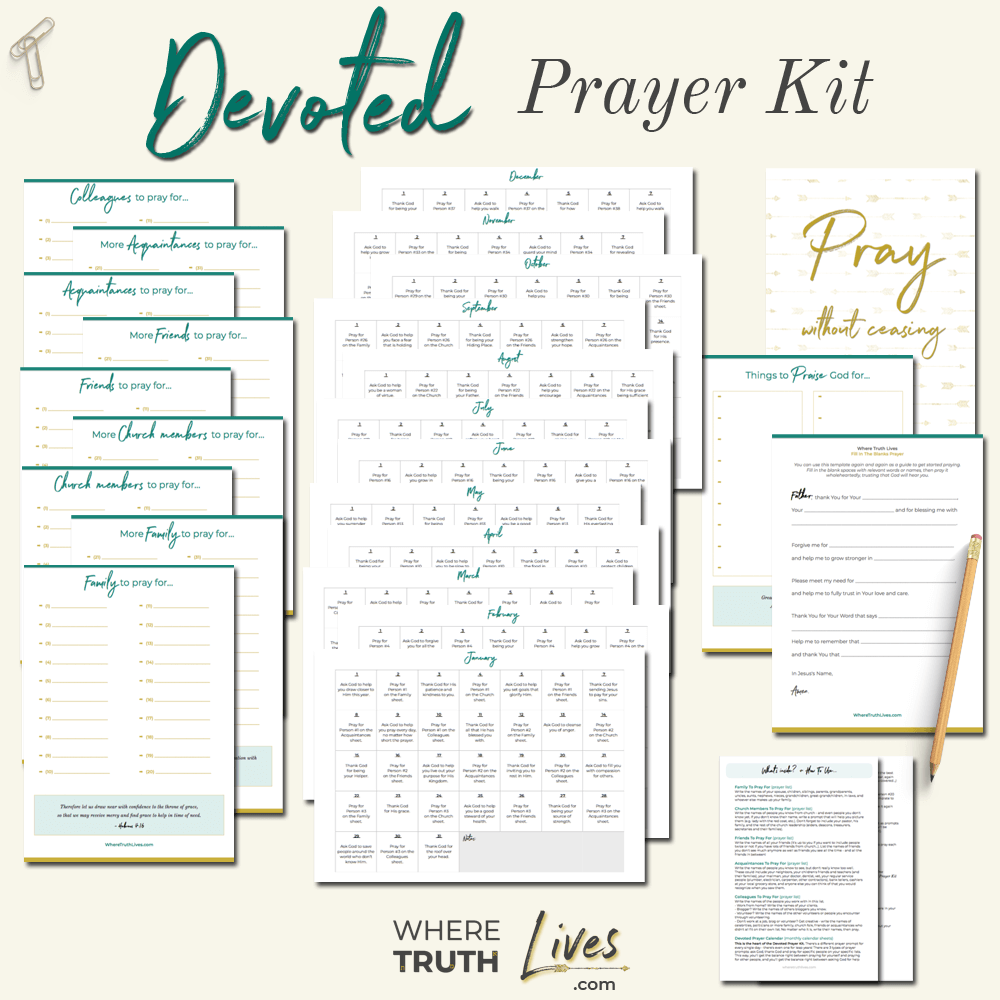 STRUGGLE WITH PRAYER?
The Devoted Prayer Kit is a 12-month system, featuring targeted prayer lists, praise list, a fill-in-the-blanks template prayer, and more, to help you pray with consistency, focus and purpose.
This offer is only available for…
THE DEVOTED PRAYER KIT IS FOR YOU IF…

You want to pray regularly, but you have a hard time being consistent.

You don't get a lot of free time to pray, if any.

You get distracted easily while praying.

You find it hard to get the balance right between asking God, thanking God, praying for yourself and praying for others.

Sometimes you don't know what to pray or where to even start.

You want a guided solution so you can take clear action.
Don't miss this special one time offer…
This life-changing product is yours for just $7.50 when you purchase in the next 20 minutes.
This is the only time the price will be this low, so grab yours now!
GET IT NOW FOR JUST $7.50
(REGULAR PRICE: $15)

WHAT'S INSIDE?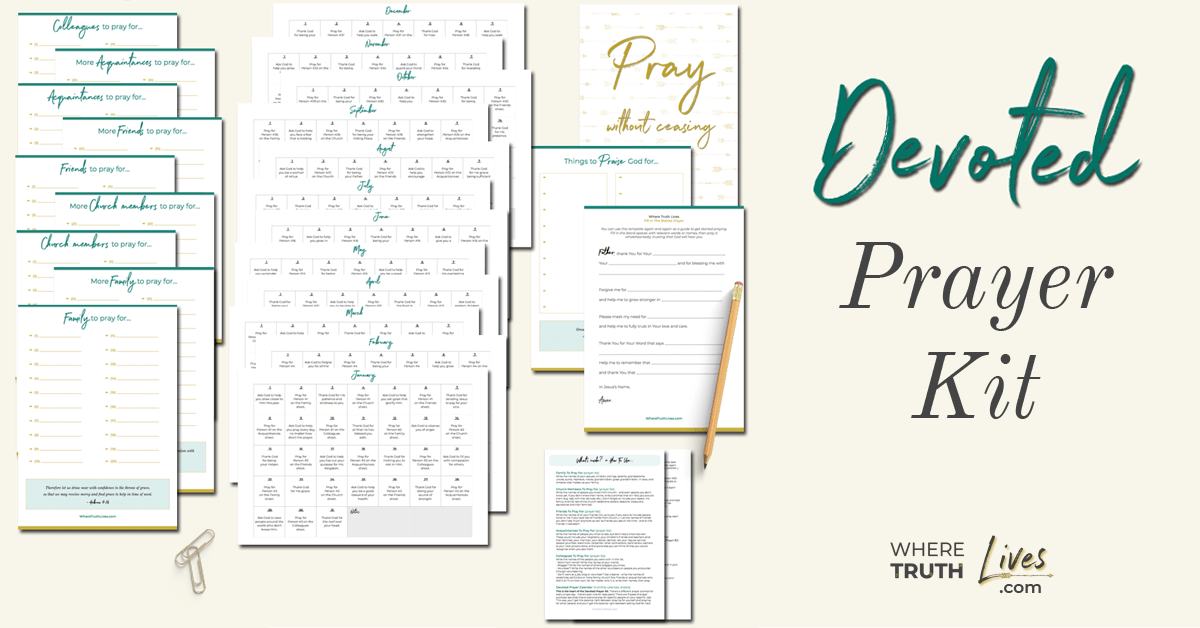 Devoted Prayer Calendar (monthly prayer prompt sheets, use any year), with alternating types of prayer prompts to help you get the balance right and pray with purpose… (12 pages, with 366 prayer prompts)
Themed Prayer Lists, to use with the monthly calendar sheets so you'll always know who to pray for and when… (9 pages)
Fill-In-The-Blanks template prayer printable, that you can use again and again as a guide to get compose a purposeful prayer…
Praise List printable, to encourage you to keep a record of answered prayers so you can thank God for them…
Pray Without Ceasing Bible verse art print, to display in your home to encourage you to pray each time you see it…
Getting Started Guide, to walk you through exactly what each printable is and how to use it to improve your prayer life… (2 pages)
Overall: a comprehensive, structured framework that will enable you to pray daily with consistency, focus and purpose…
PLUS, THESE POPULAR BONUSES, ALL IN ONE PLACE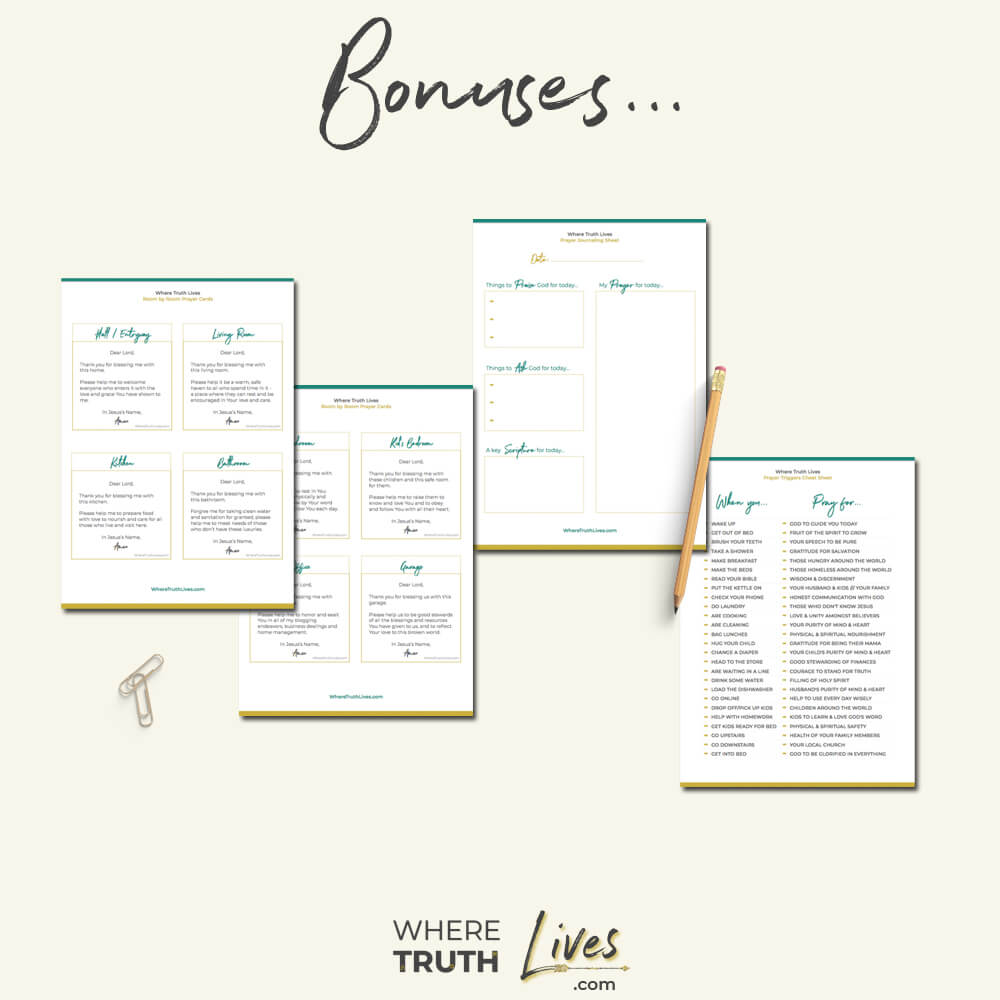 Room-By-Room Prayer Cards /// Prayer Journaling Sheet /// Prayer Triggers Cheat Sheet